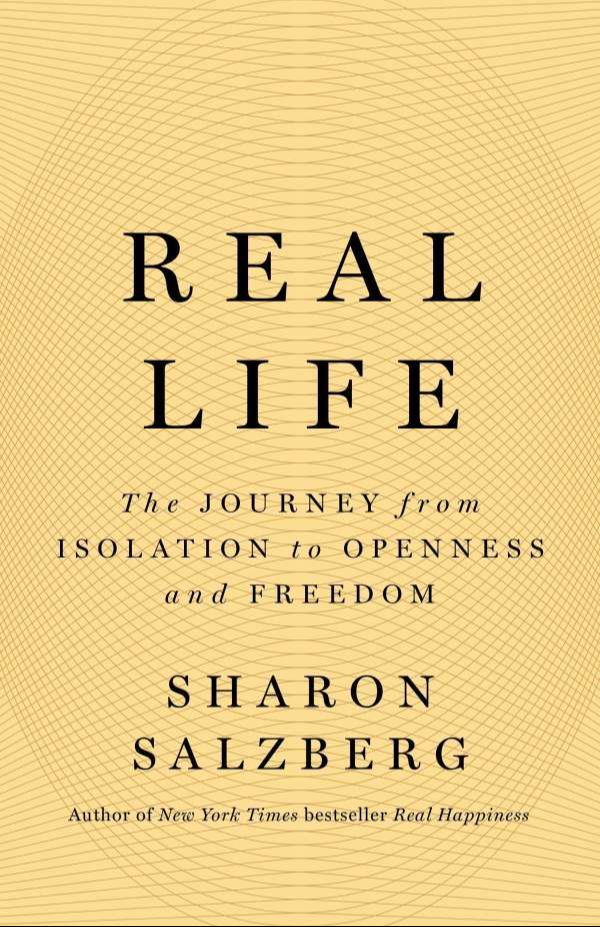 Announcing the Fall 2023 book:
"Real Life - The Journey from Isolation to Openness to Freedom" - by 
Sharon Salzberg 
Our Book Club (which is so much more than a Book Club!) will meet for 6 weeks. Tuesdays November 7  - December 12 or Fridays November 3 - December 15 (no session on 11/24).
We will come together virtually for discussions, writing prompts, community and connection. The sessions are on Tuesdays 5:30pm - 7pm PT and Fridays 9:30am - 11:00am PT (your pick which session). 
1 payment of $220 or 2 payments of $120
I enjoyed this book so very much. "Merging the insights of inspiring voices with her own understanding of mindfulness, New York Times bestselling author Sharon Salzberg shows us how we can recover from the emotional effects of crisis."
When confronted with pain and obstacles, we often shrink back and contract out of fear and disappointment. That can become a way of life. In Real Life, Sharon Salzberg lets us know it doesn't have to be that way. When we feel alone, cut off, or trapped, we can let those difficulties steer us onto a path toward an authentic, flourishing life—living in a way that allows us to find the wholeness that lies within. Even when we're alone, a sense of community can accompany us through the stormy times. Our words, hearts, and actions can line up with a larger vision, rather than the smaller views our anxious, fearful thoughts arouse in us.
To live in a less constricted way—with a more spacious, open sense of possibility, creativity, connection, and joy—Salzberg says we need to get real about what's most important, to ask ourselves, "What do I most deeply yearn for?" "What would I benefit from letting go of?" "What do I believe is possible for me?" Real Life is about the journey we make when we decide to live the life that speaks to our innermost longing to live free.

Praise for this book:
"Real Life leaves us wiser, encouraged, courageous, and tender, more connected to our hearts." - Jack Kornfield

"Of all the contemporary Buddhist teachers, Sharon Salzberg is the most radically open..the one teacher I have met and have spent a lot of time with that I can talk deeply about both sacred and the mundane. I couldn't recommend this book more highly." - Bell Hooks
Join us for this deep and powerful journey together in community!
Why join Bookclub?
This Book Club is a women's circle of magnificent souls..many of the women have done every single book club, it has become part of their schedule, and part of the fabric of their lives..and some drop in and out depending on the book. know that all are welcome! These groups are always a community of insightful, supportive women eager to engage in meaningful conversation. We laugh and cry and share from our hearts..most of the women have said that they have never shared like this before..and now it's become a natural, necessary, joyous support and touchstone in their lives.
"These book club gatherings have shown me what truth looks and feels like in others and in myself. Women sharing and supporting each other's unretouched pains, triumphs, worries, hilarities, fears, loves…it is magnificent and affirming. Most especially, it is real and it is safe. Honoring the truth in others helps me see and honor the truth in myself. What a blessing to experience the divine feminine so beautifully brought to life each week! This is one precious tribe." - Sandy
Love,
Rachel SatSiri